Hi! I'm so honored to share a little bit of my heart today! My name is Alex and I write a blog about the things I love, my family life, and my faith.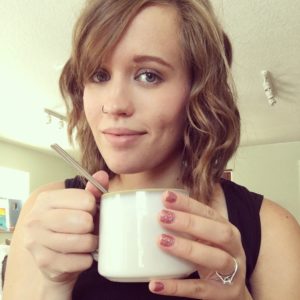 I'm 24 years old, happily married, the mother of 2 kiddos under the ages of 2, and I love my coffee. Jesus is my rock and the only One who can get me through this crazy but beautiful thing called "life"!There are many things in life that we long to understand, but that simply remain outside of our grasp until we personally walk through them. Being a mother was one of these realms for me. Certainly, I studied and prepared for it, but there's nothing quite like "getting your feet wet." Of course, I knew there would be a learning curve (and many more to follow throughout the years!) but there was one thing I did not anticipate – seeing the love of the Father from a fresh and new perspective…
…you received the Spirit of adoption by whom we cry out, "Abba, Father." The Spirit Himself bears witness with our spirit that we are children of God.
(Romans 8:15b-16, NKJV)
The Deepest Love
Greater love has no one than this, than to lay down one's life for his friends.
(John 15:13, NKJV)
Our Father in heaven loves us, His children, on the deepest level imaginable. He truly did lay down His life for us. Is there any greater proof of the depth of His love? I love my children so much that it hurts. I would do anything for them! Isn't this how the Father felt when He imagined us separated from Him forever by our sins? Jesus laid down His life "for the joy set before Him…" and that joy was for us to be in relationship with Him for forever (Hebrews 12:2.) He truly has demonstrated the deepest display of love that is possible.
The Most Vulnerable Love
O Jerusalem, Jerusalem, the one who kills the prophets and stones those who are sent to her! How often I wanted to gather your children together, as a hen gathers her chicks under her wings, but you were not willing!
(Matthew 23:37, NKJV) 
Have you ever considered the vulnerability of the Father's love towards us? I don't often think of God being vulnerable – but in a sense, He is with His extravagant love! He loves each person with the deepest love imaginable, yet so many reject and even despise Him. I adore my children and nothing will ever change that, but the possibility remains that some day they could say that they want nothing to do with me. As a mother, I "wear my heart on my sleeve" each day but that doesn't keep me from loving my babies with all of my heart. In the same way, there is nothing that could convince the Father to stop loving or stop drawing all people to His heart.
The Only Unconditional Love
"Can a woman forget her nursing child, and not have compassion on the son of her womb? Surely they may forget, yet I will not forget you.
(Isaiah 49:15, NKJV)
I remember one night in particular as I rocked my daughter to sleep, I pondered the forgiving love that a parent has for a child. Here I am, an imperfect human, loving an imperfect child on a level that I cannot explain. No matter what my children do in life, I cannot stop loving them with the love of a mother. The Father, in His goodness and mercy has also said that nothing can separate us from His love (Romans 9:38-39, NKJV.) His love is truly unconditional because He, Himself, has met the required conditions for it. There is nothing we can do to disqualify ourselves from receiving His unconditional love.
Becoming a mother has been one of the greatest blessings in life for obvious reasons – I've been entrusted with the care of two very precious and adorable souls. But I am equally grateful for the glimpse I have gotten into the Father heart of God through the experience of being a parent. It is my hope that from reading this, you can catch that glimpse as well. His love is deep, vulnerable, and unconditional… always. He truly is a good Father and loves His children so well. May you know and experience this love all of your days!
Grace and peace!
– Alex
Blog: www.hearthomeandhope.wordpress.com
Email: hearthomeandhope@gmail.com
Facebook: Alex Hearthomeandhope
Twitter: hearthomehope
Instagram: hearthomeandhope
Pinterest: hearthomehope
Share This: